Brewhouse System:
A typical four-vessel brewhouse will include a Mash tun, Lauter Tun, Kettle and Whirlpool. Each of these tanks is dedicated to performing a single process, and is designed differently than similar vessel used for performing multiple processes.
Four-vessel systems offer the highest throughput and the most versatility. With proper vessel sizing, well laid out hard piping, and well-designed controls these brewhouses can be extremely large and only require one person to operate it. The ability to make more beer with less labor input, paired with gains in efficiency and quality control make the four-vessel brewhouse a worth while investment for breweries that intend to produce a lot of beer.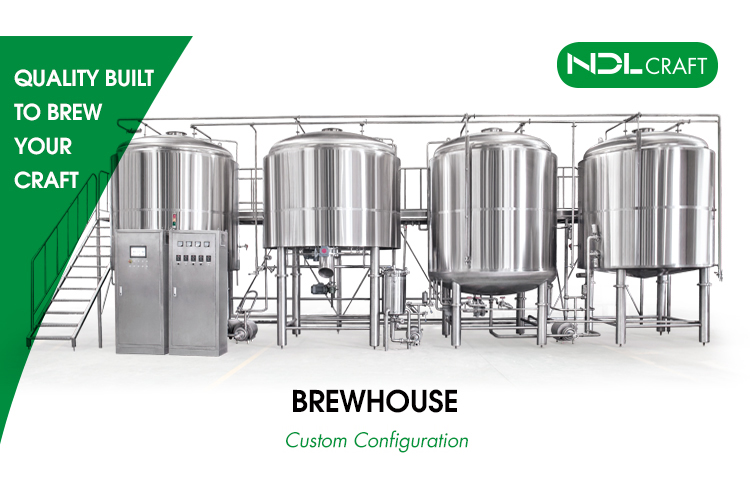 The alternative to a four-vessel production based brewhouse with dedicated process tanks, is two and three vessel systems with tanks that preform multiple processes. These combination tanks can be a more affordable way to start a brewery, they take up less floor space, and depending on your production goals, they might be able to last your business a very long time.
A typical two-vessel
Combination Mash Lauter Tuns are the first combination vessel in these smaller brewhouses line ups. This vessel should be sized to favor the Lauter operation, and have the mechanics for mixing mash and graining out.
Next inline is the combination of the Kettle and Whirlpool tanks. This combination vessel is designed and sized for being primarily a kettle, but is equipped with a tangential fitting for whirlpooling.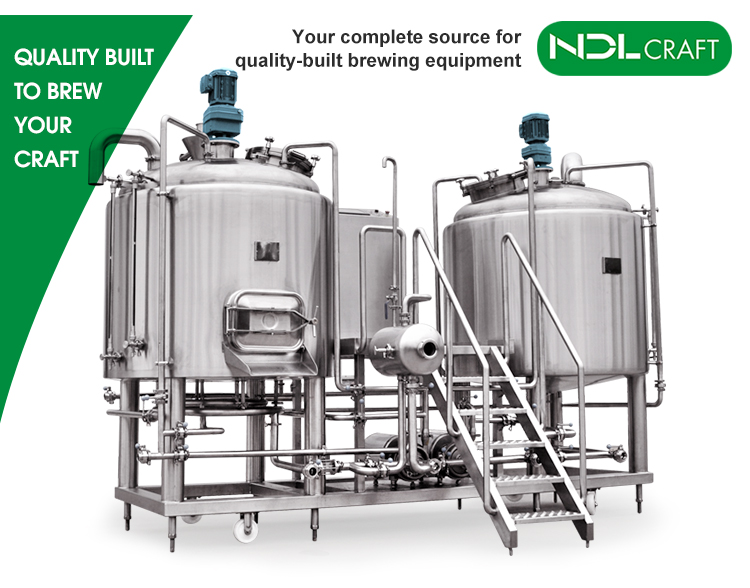 A three-vessel brewhouse is hybrid system that incorporates at least one combination vessel and two dedicated process vessels. For example, a medium sized brewery with a focus on heavily hopped beers might choose to go with a combination Mash Lauter Tun, a dedicated Kettle, and a dedicated Whirlpool. Whereas, someone focusing on lagers or feeding a distilling operation might go with a dedicated Mash Tun, dedicated Lauter Tun, and a combination Kettle/Whirlpool. Three-vessel systems don't have the same output and versatility as four-vessel systems, but they will still out perform a two-vessel system and provide increased efficiency.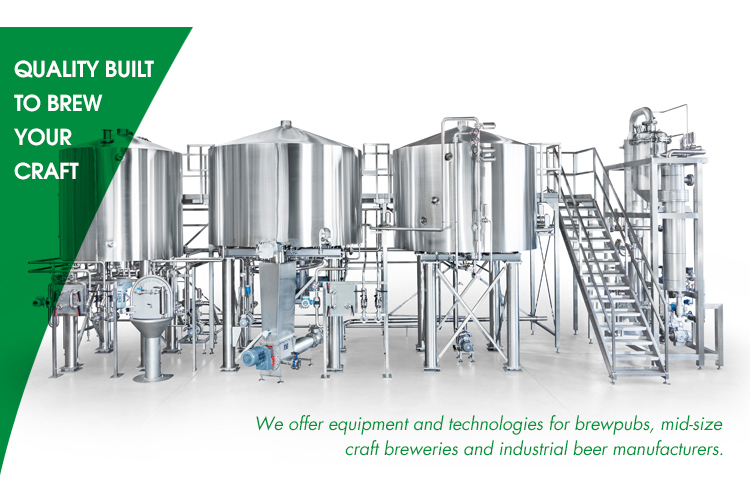 1000L Brewhouse for Reference
Brewhouse is consisted of mash tun, lauter tun, kettle tun, and whirlpool tun.
Two Vessels: (Mash lauter tun & Kettle whirlpool tun).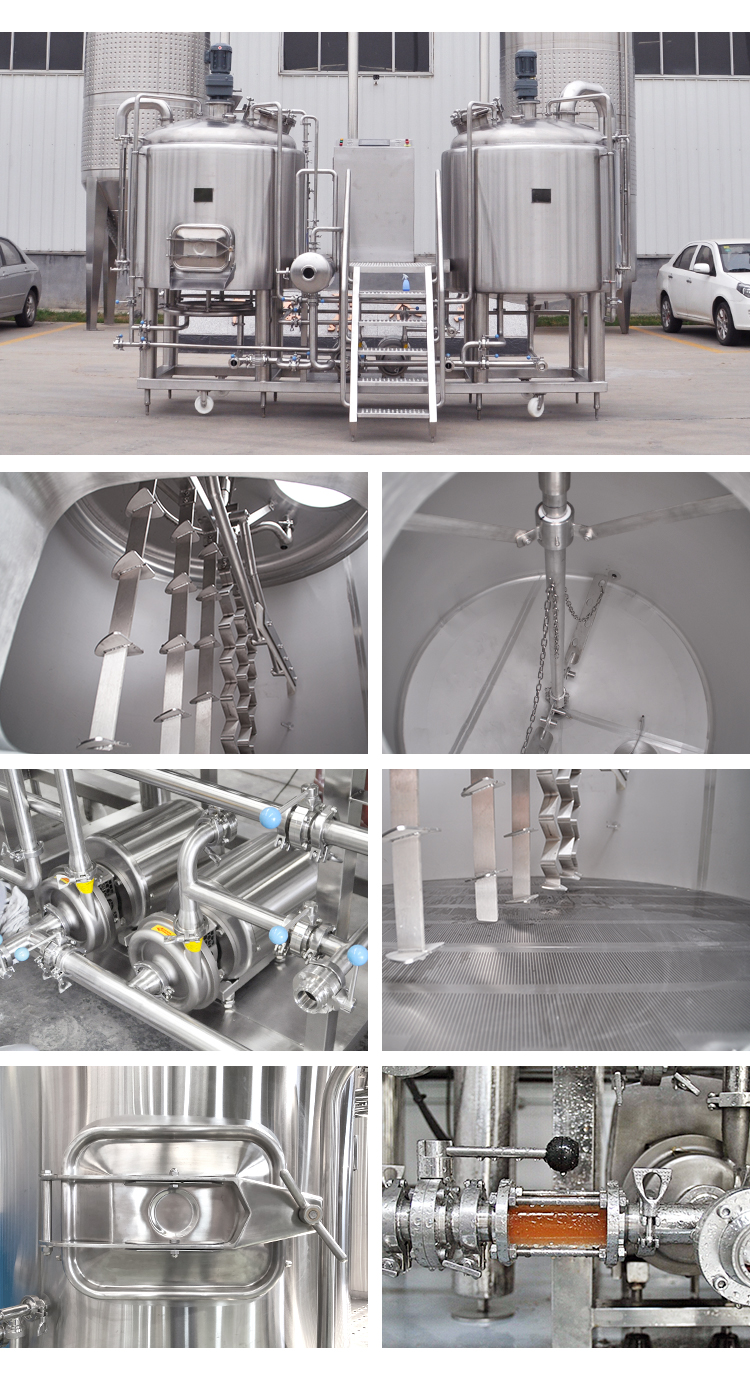 Fermentation System: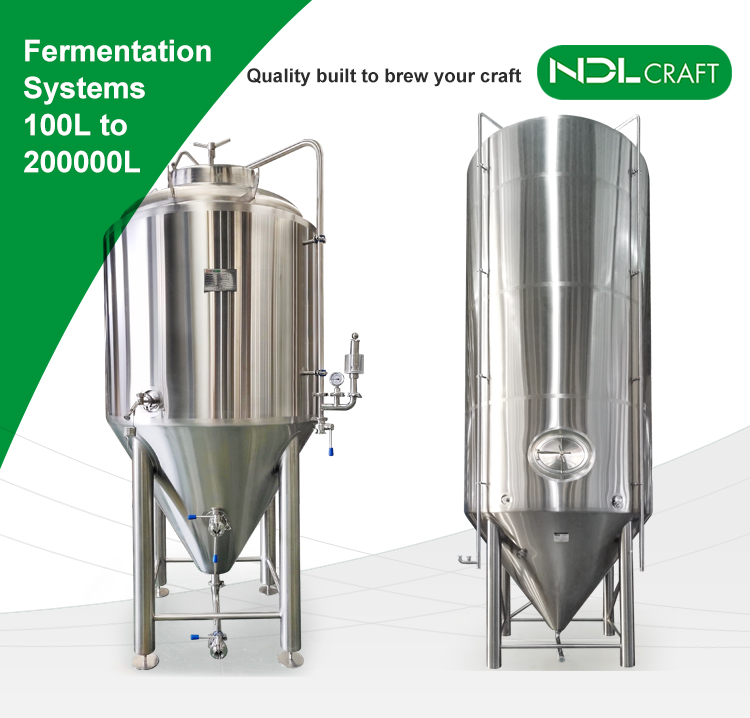 Fermentation tanks are where the magic happens. It's important to have a precisely built vessel to condition your beer as it ferments. NDL Craft offers fermentation tanks with ultra-precise welding and polishing, complete traceability, and material exactness to meet all international safety standards. From small, pub-size fermenters to towering outdoor tanks, we have the manufacturing capability and expertise to custom-build fermentation tanks of all sizes.
1000L Fermentation System for Reference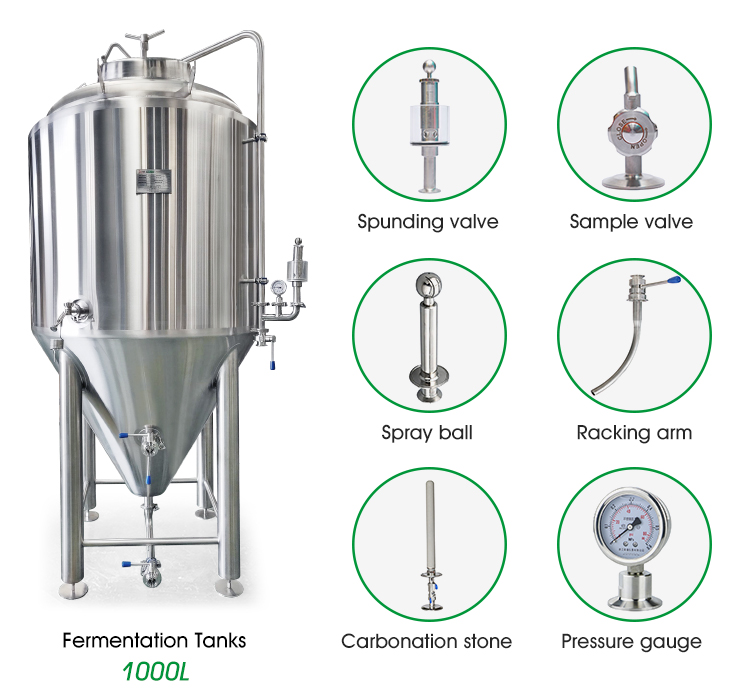 1.) Function: Use for keep wort fermentation or maturation.
2.) Component: It is consisted of Shadowless manhole, Mechnical relief Valve, Aseptic valve, Pressure gage, Rotate racking arm, Butterfly Valve, Solenoid valve and etc.
3.) Glycol jacket: Dimpled plate on cone side, cooling media: glycol water or alcohol water.
4.) Cooling method: dimple plate or glycol cooling jacket around tank.
5.) Cooling media: glycol water or alcohol water.