13HP 3600 PSI Gasoline Powered Washing Machine
HOW TO CHOOSE FITTABLE high pressure washing machine?
1. Depending on usage:
General high pressure cleaners can be divided into two types, household and professional. If you use the washing machine for less than 50 hours a year, you only need to buy a household washing machine. The price is relatively cheaper, lighter in weight, simple in material and not heat resistant. If the time of use is more than 100 hours, it is necessary to consider a professional high-pressure cleaner, which is large in size, and the material is made of copper alloy pump head, stainless steel valve and other durable materials, and the price is of course much higher. So how to choose depends on the needs of consumers.
2. Depending on the needs of hot and cold water:
High-pressure cleaners can also be classified into hot water and cold water depending on the requirements of the occasion. Generally, most of the market is cold water type, which can be used by pouring water into the normal temperature and clear water. However, some business places need to be washed with hot water. In this case, it is necessary to purchase a hot water type high pressure cleaner. The injection of hot water, internal parts including the pump will be extremely fast damage, not worth the candle.
A heating device is added to the hot water washer, which generally uses a combustion cylinder to heat the water. The use of hot water cleaning can quickly flush a large amount of dirt and grease that is not easily washed by cold water, which greatly improves the cleaning efficiency. However, because hot water washing machines are expensive and operate at high cost (because diesel is used), most users may choose ordinary cold water high pressure cleaners; of course, in order to improve cleaning efficiency and effectiveness, many professional customers will choose Hot water washing machine.
3. Also choose the nozzle:
The cleaning effect caused by different nozzles is also different. For example, the circular water column nozzle can increase the cleaning efficiency, the fan type nozzle can rotate the nozzle as a low pressure spray (sprayable soap water) and a high pressure fan type water column, and the low pressure brush head can spray a low pressure water stream to gently scrub. Some of these sprinklers will be included, and some must be purchased by yourself.

FEATURES:
Multi-Purpose Pump
Ideal for farming,high-volume transfer,dewatering & irrigation
Commercial Grade Engine
An industry standard for reliability and fuel efficiency
Protected By Oil Alert Warning System
Alerts you or shuts engine down if oil reaches an unsafe level
Fast & Reliable Starting
Corrosion-resistant design for pumping a variety of liquids
2-Years Limited Warranty
Engine:
OHV 4-stroke with low-oil protection
Starting system: Recoil/E-starter
Displacement: 389CC
Max Output: 13HP/3600RPM
Fuel Volum: 6L
Oil Volum: 1.1L
Fuel Type: Unleaded Gasoline
Pump
Type: Crankshaft Pump
Rated Pressure: 250Bar(3600PSI)
Max Pressure: 300Bar(4350PSI)
Flow Rate: 15L/min
Low-high pressure detergent injection
Ambient: 0℃-60℃
Warranty: 2years
Packing Size: 74.5*52*71CM
102PCS /20"C
200pcs/40ft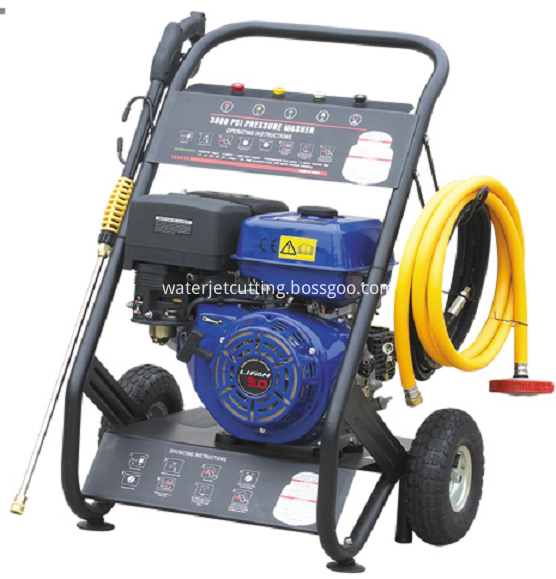 ACCESSORIES:
* one 8m pressure hose
* two 10inch pneumatic wheels
* one pressure gun with safty local
* one sets pothook
* four nozzles

Q: shipping way
A: By sea or express
Q:MOQ
A: 50pcs
Q: is the washer can be OEM
A: Yes. base on the MOQ can be free .
Q: any certificate
A: CE,EPA
Q: one sample available
A: yes .
Q:payment terms
A: T/T L/C or paypal .
Q:delivery time
A: 15 days for one 20"C,3days for one sample
Q: delivery terms
A: FOB,CIF,C&F,DDU